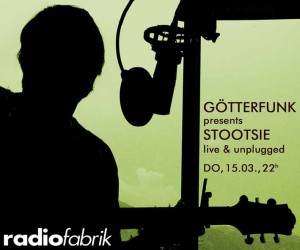 Am Donnerstag, 15.03., war's soweit: GÖTTERFUNK – DIE Sendung für Bands und Musikschaffende aus Salzburg auf der Radiofabrik feierte Premiere auf der Radiofabrik. Und wer hätte besser als Gast für den Kick-Off  passen können als der Oberzampano der Salzburger Pop-Szene: STOOTSIE – live & unplugged! Wer's – sträflicherweise – verpasst hat, kann hier nachhören.
Für die Zukunft aber gleich vormerken: GÖTTERFUNK – jeden 1., 3. und 5. Donnerstag im Monat um 22h.
Am 05.04. ist Mel, am 19.04. The More Or The Less zu Gast bei OCB!