Schlagwort-Archive:
Musikfilmfestival
Frau Nowaks Transorientalischen Musikexpress vom Norient Musikfilmfestival 2013
Watch on Vimeo:
https://vimeo.com/59195332
Herzlich Willkommen im Neuen Jahr!
Die schöne Frau Nowak ist zurück und freut sich darauf, Euch weitere 12 Monate mit dem Transorientalischen Musikexpress beglücken zu dürfen.
Die Lucky 13 fängt schon mal gut an – die erste Sendung des Jahres ist eine Zusammenfassung der Highlights des
Norient Musikfilm-Festivals Bern, bei dem die Nowakin Stammgast ist.
www.norient.com
  Schwarzmetall, Queerer HipHop, Booty Dance und Chalgapop.
Plus Interview mit den Regisseuren Aaron Aites & Audrey Ewell.   Wann & Wo?:
Tide 96.0

Hamburg: Do, 24.01.2013 – 08:00
Radio Fro

Linz: Mo, 28.01.2013 – 20:00


Radiofabrik

Salzburg: Di,  29.01.2013 – 20:00 & Mi, 30.01.2013 – 18:00
@ Norient Musikfilmfestival –
Fotos © Karin Scheidegger
Übrigens: Norient hat ein Buch herausgebracht:
"Out Of The Absurdity Of Life" heisst das Werk – mit Artikeln, Interviews und Fotostrecken zum Thema Globales Musikschaffen zwischen Europa, Afrika Amerika und Asien in Zeiten der Web 2.0.
  Darin auch der Beitrag der schönen Frau Nowak:
"Gucci Provokationen aus Afrika"
Out of the Absurdity of Life. Globale Musik

Hrsg. Theresa Beyer & Thomas Burkhalter
Traversion Verlag 2012
Broschiert, vierfarbig
16,5 x 23,5 cm, 328 Seiten
ISBN 978-3-906012-03-2
EUR 28.- / CHF 36.-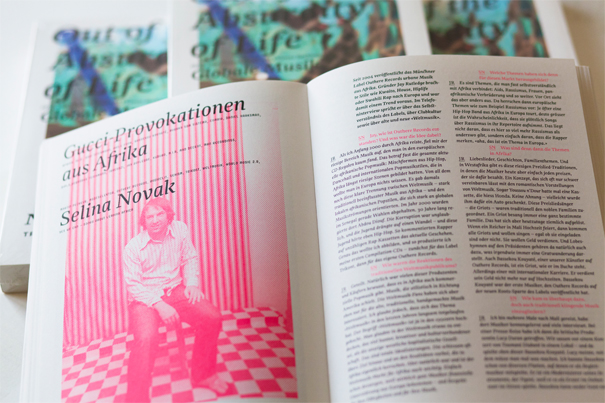 (Ja, da steht mein Name falsch geschrieben)