Eine Dissenting Opinion zu Stephan Schulmeisters Standpunkt, Europa möge sich ein Vorbild an der einst (von Konservativen wie Franz Josef Strauß) getroffenen Entscheidung nehmen, der US-Dominanz im Flugzeugbau mit der Gründung und staatlichen Unterstützung des Airbus Konsortiums zu begegnen:
After getting knocked back on Alstom-Siemens, France and Germany are eager to back the cobbling together of European champions. It's a recipe for disaster.
France and Germany want to make more Airbus-style European industrial champions. But what happens when they start fighting over jobs and strategy?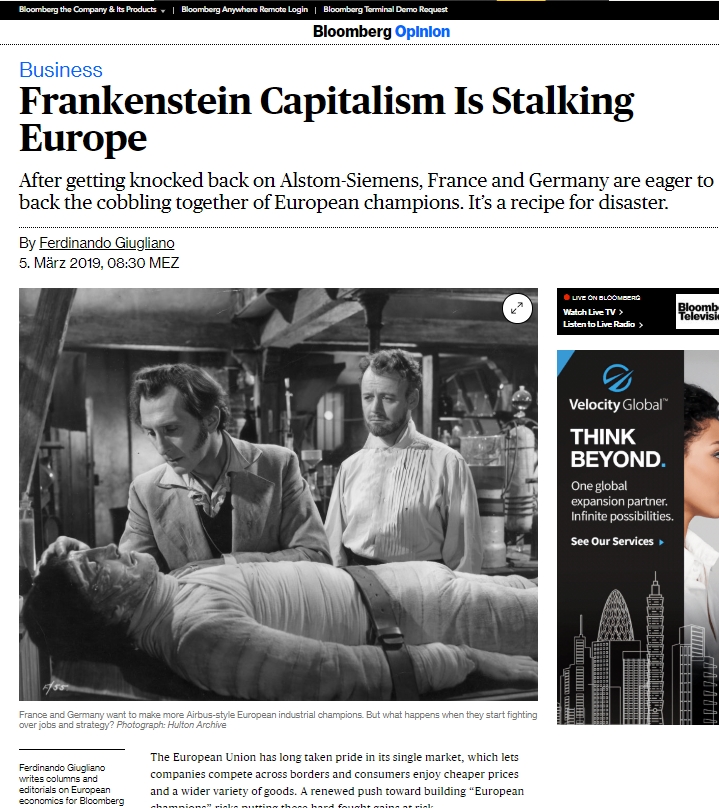 https://www.bloomberg.com/opinion/articles/2019-03-05/after-alstom-siemens-frankenstein-capitalism-is-stalking-europe
---
Einige Links zum Thema Airbus, insbesondere dem möglichen Aus für den A380 und den Folgen für SteuerzahlerInnen wie Umwelt. Die entstanden allerdings großteils bereits vor dem und durch den Bau des Supervogels durch massive Eingriffe in die Natur rund Hamburg.
https://www.zeit.de/wirtschaft/unternehmen/2019-03/a380-airbus-staatskredit-rueckzahlung-flugzeug
https://www.tagesschau.de/wirtschaft/airbus-269.html
https://www.nabu.de/news/2005/04283.html
https://www.faz.net/aktuell/wirtschaft/unternehmen/airbus-produktion-aus-muehlenberger-loch-wird-muehlenberger-plateau-1178964.html
http://www.spiegel.de/spiegel/print/d-21662460.html
https://rp-online.de/politik/hamburg-und-der-super-airbus_aid-8457181
---