Ein buntes, aufregendes, von Höhen und Tiefen gezeichnetes Jahr geht dem Ende zu. Wir, Su und Karo, nützen die Rückblicks-Stimmung, um uns mit Alltagsheld_innen zu umgeben, die uns immer begleiten, stützen, bewegen und auch jubeln lassen: Großartige Bands und Musiker_innen mit ausgesuchten Songs, die für jede von uns eine spezielle Bedeutung für bestimmte Momente im Leben haben. Die Setlist unserer letzten Sendung 2017:
Wolf Parade – Lazarus Online
Arcade Fire – Everything now
The National – Guilty Party
Siskiyou – The Funeral
William Shatner & Pulp – Common People
Frightened Rabbits – Keep yourself warm
We were promised Jetpacks – An Almighty Thud
Clinic – Harvest
Sigur Ros – Hoppipolla
Arcade Fire mit David Bowie, dem Unvergessenen – Wake up
Der letzte Song "Wake up" steht für eine Aufforderung an uns selbst und an uns alle, vor allem angesichts der aktuellen regierungspolitischen Situation in unserem Land: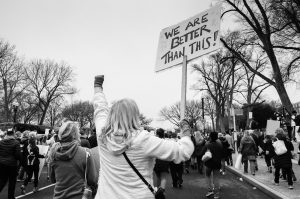 Children wake up,
Hold your mistake up,
Before they turn the summer into dust.
With my lightnin' bolts a glowin'
I can see where I am goin'
Wir danken unseren wunderbaren Gegenübern in all den Sendungen in diesem Jahr für intensive, tiefgehende und auch persönliche Gespräche – danke für euer aller Offenheit und euer großes Engagement für ein gutes Miteinander! Und an unsere Hörer_innen: danke für's Lauschen und Dabei sein!
Auf ein glückliches 2018 euch allen,
die Fvonkis
FVONK Dich FREI – Der Radiotalk mit AlltagsheldInnen. Am MO, den 25.12.2017 von 17:00 – 18:00 Uhr auf der Radiofabrik, 107,5 und 97,3 MHz, und im Livestream unter: http://radiofabrik.at/rafab_stream_low.m3u